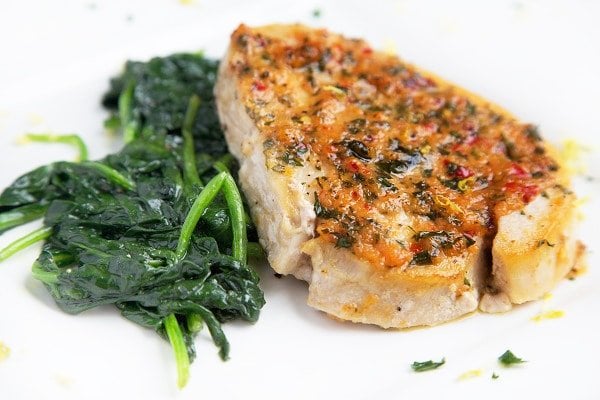 Ginger Garlic Pan Roasted Swordfish A Restaurant Classic I always have friends ask me, whats the best way to cook fish? While my favorite way is the simplicity of Olive Oil, Sea Salt and Pepper, there are times that I add additional flavors to spice things up a bit! After all, Variety is the Spice of Life. One of my latest requests was what to do with swordfish? Swordfish can be a disaster if overcooked and is really a fairly bland fish (if its fresh), so you can have fun adding in very flavorful ingredients. Marinating is always an option, but it takes a little more thought and time. How do I make Compound Butter? Compound butter is made by mixing additional elements, such as herbs, spices or aromatic liquids, into softened butter. Reforming the butter into logs using plastic wrap or parchment paper is a great way to store it until needed. You can also place it into serving crocks for table use. Remember recipes are guidelines. Add your favorite flavors to make your signature compound butter. Have fun and experiment with the flavors. Make sure to chill your butter to firm it up and can be kept in the refrigerator for up 5 days. Compound butter can be stored in the freezer for up to 6 months. What are Compound Butters good for? Using compound butter is a great way to spice things up with your cooking. You can use compound butter on fish, chicken or beef...
The post Ginger Garlic Pan Roasted Swordfish- A Restaurant Classic appeared first on Chef Dennis.
Did you find this post inspiring? Save THIS PIN to your board and check it later at any time!