Cookie season is coming in hot! Im over here enjoying being able to use my oven again now that its not 100-million degrees outside. So with cookie season afoot and it being pleasantly cool outside, I thought it would be a great time to make some cookies.
These Healthified Oatmeal Raisin Cookies are just that. A traditional oatmeal raisin cookie that Ive lightened up with a few simple swaps. Dont worry though! They are just as chewy, soft, and delicious as the original and no one will ever guess theyre better-for-you.
One of the first swaps I made was to use a whole wheat white flour. Why? I wanted to get the whole wheat in there without the grit of whole wheat flour. I also subbed in a brown sugar/sweetener blend instead of full on brown sugar. This cut down the sugar on these cookies immensely.
Other than that, these cookies are really pretty standard. Oats, raisins, and some spices.
These cookies do take some time, but thats only because the dough needs to chill for at least an hour in the fridge to avoid the dough spreading out too much when baking.
The only other thing to worry about with these cookies is over-mixing. You do want to be careful and avoid doing that.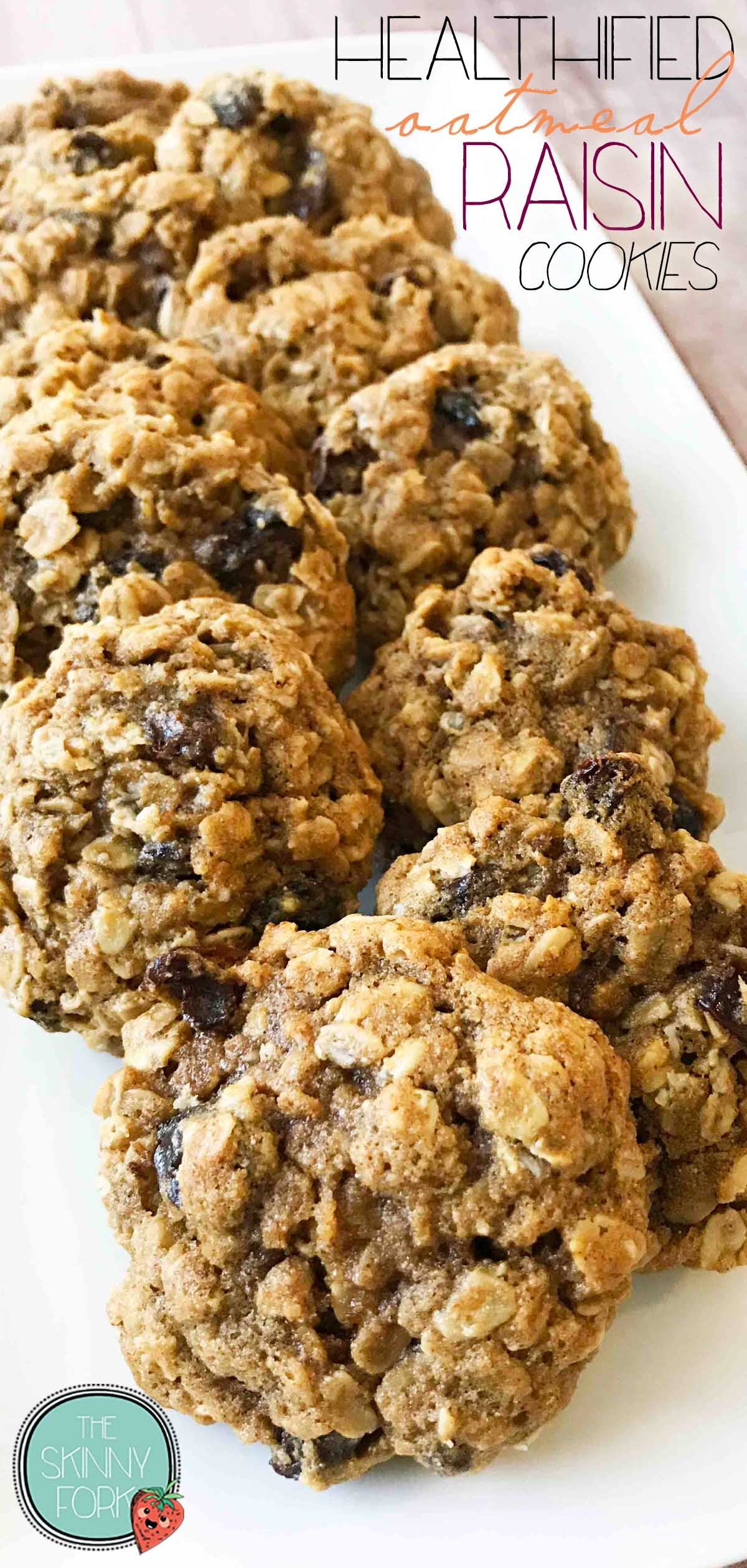 Healthified Oatmeal Raisin Cookies
TheSkinnyFork.com
A healthified twist on a classic oatmeal raisin cookie. Just a few simple subs make these cookies delicious and guilt-free!
Prep Time:
2 Hours & 15 Minutes
Cook Time:
12 Minutes
The Skinny:
Servings: 28
Serving Size: 1 Cookie
Calories: 156
Fat: 8 g
Saturated Fat: 4 g
Carb: 20 g
Fiber: 1 g
Protein: 3 g
Sugar: 8 g
Sodium: 88 mg
Ingredients:
1 C. Unsalted Butter, Room Temperature
1/2 C. Sweetener/Brown Sugar Blend
1/4 C. Sugar
2 Whole Large Eggs
1 Tbsp. Vanilla Extract
1 Tbsp. Molasses
1 1/2 C. Whole Wheat White Flour
1 1/2 Tsp. Ground Cinnamon
1 Tsp. Baking Soda
1/2 Tsp. Salt
3 C. Old-Fashioned Oats
1 C. Raisins
Directions:
In a large bowl, cream together the 1 C. butter, 1/2 C. sweetener/brown sugar, and 1/4 C. sugar.

Add in the 2 whole large eggs and continue to beat for another minute or two.

Beat in the 1 Tbsp. vanilla and 1 Tbsp. molasses. Set aside once done.

In a medium bowl, whisk together the 1 1/2 C. whole wheat white flour, 1 1/2 Tsp. cinnamon, 1 Tsp. baking soda, and 1/2 Tsp. salt.

Add the dry ingredients to the wet and mix until just combined.

Fold in the 3 C. oats and 1 C. raisins.

Cover the dough and place in the fridge for 1-2 hours to chill.

After the dough has chilled, preheat the oven to 350 degrees F. and line a couple of baking sheets with foil, parchment, or silicone baking sheets for easy clean up.

Remove the dough from the fridge and scoop into 2 Tbsp. rounds and place on the prepared baking sheets about 2 apart.

Place in the oven to bake for about 12 minutes or until the edges are starting to brown.

Once done, remove from the oven and allow to cool slightly before transferring to a wire rack to continue to cool.
Step-by-Step Photos:
Nutritional Claims:Low Sodium Low Potassium Kidney Friendly Vegetarian Pescatarian Peanut Free Tree Nut Free Soy Free Fish Free Shellfish Free Pork Free Red Meat Free Crustacean Free Celery Free Mustard Free Sesame Free Lupine Free Mollusk Free Alcohol Free Kosher