During the colder end of Fall and on into Winter months, I like to stick to comfort food classics. And there isnt much thats more of a comfort food or a classic than a nice warm bowl of homemade tomato soup. Ive made a lot of tomato soup in my past, and for this Roasted Red Bell Pepper & Tomato Soup I used one of my favorite recipes and changed it up just a bit.
With at least one person in my house trying to avoid onions, I decided today to swap the onion in my original recipe for some red bell pepper. The end result was this delicious, hearty, Roasted Red Bell Pepper & Tomato Soup.
In swapping out the onion for red bell pepper, I was also able to omit the sugar. I used an unsweetened almond milk this time around too. Which gave me more soup for less calories per serving.
To say that this soup is easy to make is an understatement. It really is perfect for making as part of a weeknight dinner. Just roast everything in the oven and give it all a quick whir around in a blender. What you end up with is a delicious tomato based soup that everyone is sure to love.
I served my Roasted Red Bell Pepper & Tomato Soup with some grilled cheese sandwiches that were made on a whole wheat bread with reduced fat cheese for a perfectly traditional American comfort food classic dinner.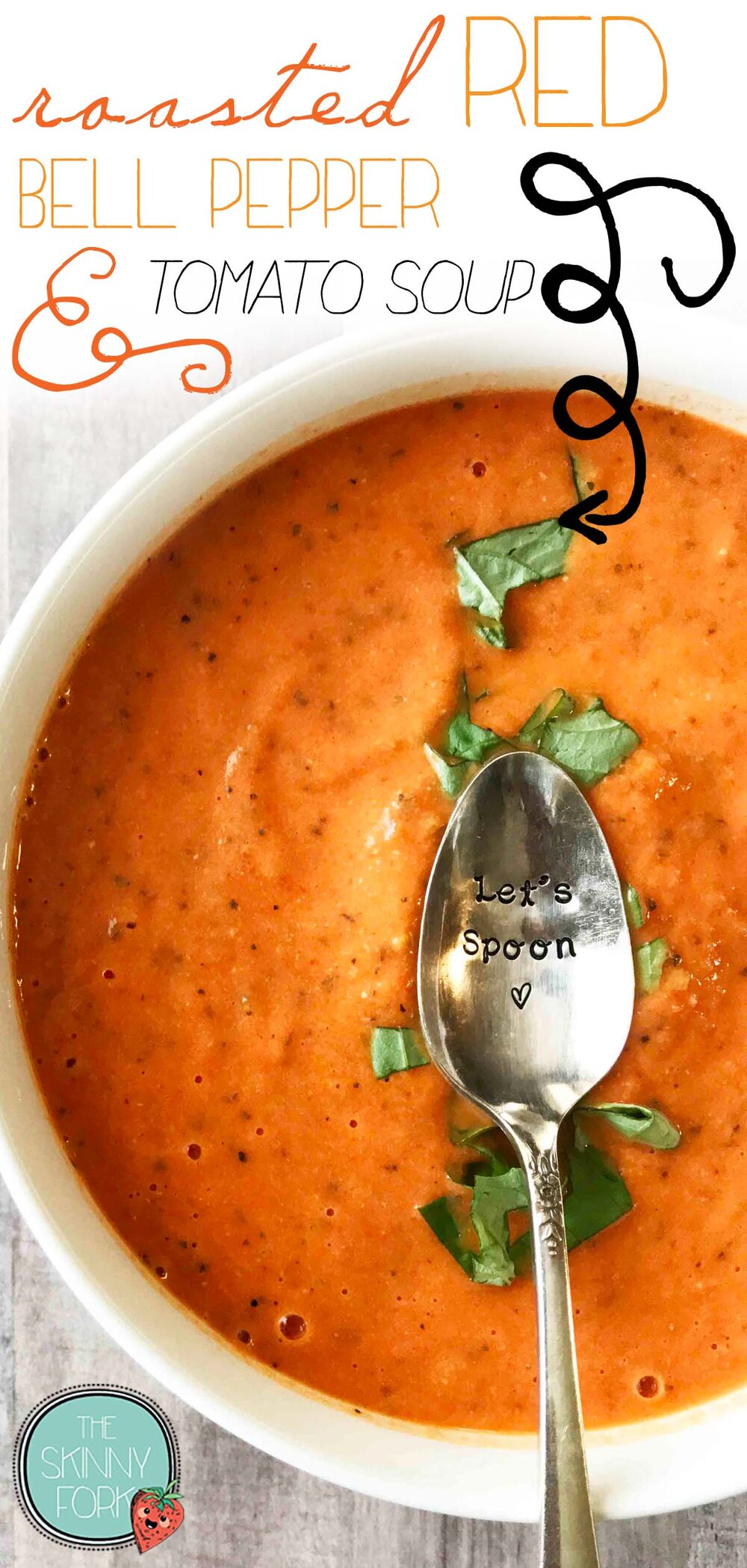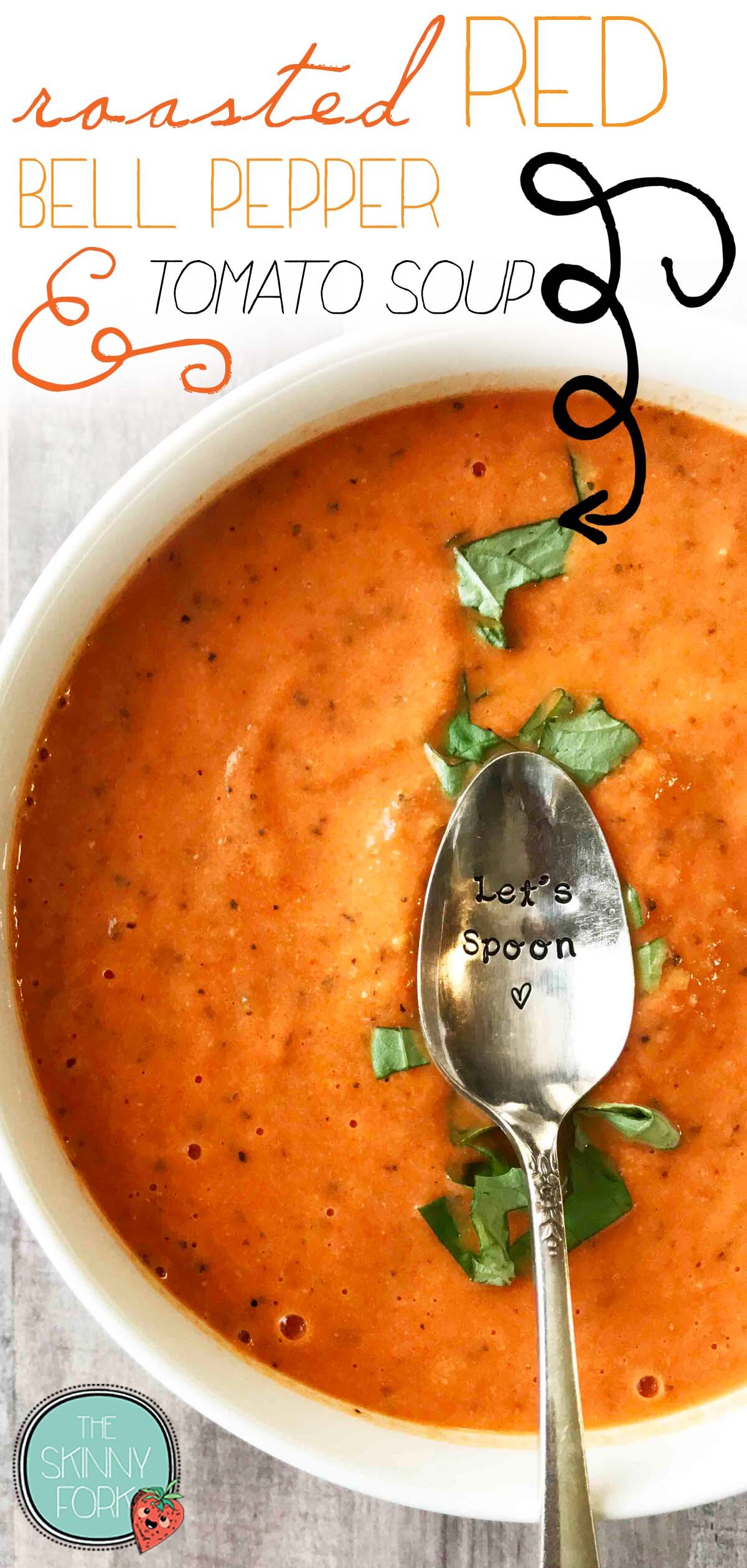 Roasted Red Bell Pepper & Tomato Soup
TheSkinnyFork.com
This Roasted Bell Pepper & Tomato Soup is perfect as part of a weeknight meal since its quick and easy to make. Plenty of garlic, cheese, and seasonings into an upscale 'adult' version of the classic!
Prep Time:
10 Minutes
Cook Time:
45 Minutes
The Skinny:
Servings: 6
Serving Size: About 1 Cup
Calories: 131
Fat: 6 g
Saturated Fat: 2 g
Carb: 15 g
Fiber: 5 g
Protein: 7 g
Sugar: 8 g
Sodium: 547 mg
Ingredients:
3 Lbs. Tomatoes, Halved
2 Red Bell Peppers, Halved
Extra Virgin Olive Oil
2 Tbsp. Minced Garlic
1 Tsp. Salt-Free Italian Seasoning
1 Tsp. Sea Salt
1/4 Tsp. Black Pepper
1 2/3 C. Unsweetened Almond Milk
1/2 C. Fresh Grated Parmesan Cheese
2 Tbsp. Dried Basil
2 Tbsp. Tomato Paste
Directions:
Preheat the oven to 400 degrees F. and line a baking sheet with foil or a silicone baking mat.

Line the tomatoes cut side up on the baking sheet along with the bell peppers. Drizzle with 1 Tbsp. of extra virgin olive oil, 2 Tbsp. minced garlic, 1 Tsp. Italian seasoning, 1 Tsp. sea salt, and 1/4 Tsp. black pepper.

Place in the oven and roast for about 45 minutes or until starting to brown.

Remove from the oven and transfer into a food processor or blender with the steam valve removed. Puree until smooth.

Add in the 1 2/3 C. milk, 1/2 C. parmesan, 2 Tbsp. dried basil, and 2 Tbsp. tomato paste..

Blend again until smooth and creamy.

Divide evenly among bowls and enjoy warm!
Step-by-Step Photos:
Nutritional Claims:Vegetarian Pescatarian Gluten Free Wheat Free Egg Free Peanut Free Soy Free Fish Free Shellfish Free Pork Free Red Meat Free Crustacean Free Celery Free Mustard Free Sesame Free Lupine Free Mollusk Free Alcohol Free No Sugar Added Sulphite Free Kosher
Did you find this article useful? Share on Pinterest by pinning this article!