These fried potatoes are a perfect alternative for a family that looks fries they are healthier, contain extra veg and are really quick! They can be eaten any number of ways, but are always golden, fluffy and delicious.
I have found that my son will eat almost anything if I serve it in the shape of chips (fries).
But it was my husband who showed me that there is something even better than ordinary fries when it comes to plain old potatoes.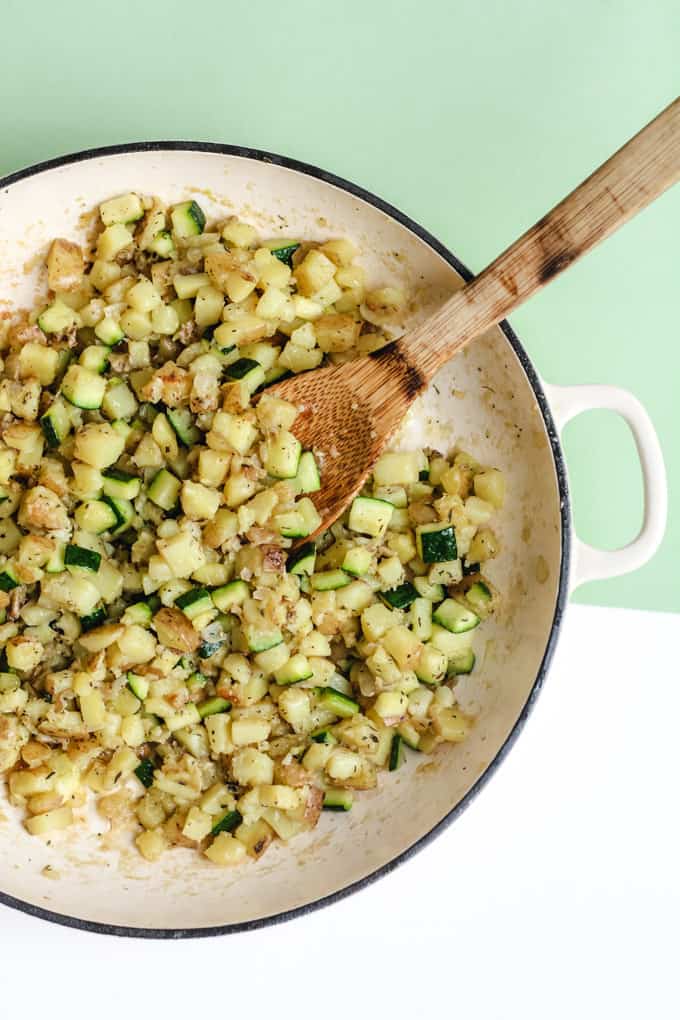 I am the main cook in our house, but my husband is a great one, and really gets how to make simple things taste great. Potatoes, thyme, olive oil, salt so basic, but it becomes something delicious.
Id have these over chips any day!
This dish is really versatile and makes as good a breakfast hash as it does a hearty lunch or dinner. Try serving it with these super-quick additions for a speedy dinner:
off-the-bone free-range ham (ideally nitrate-free), a fried egg and salad leaves for a healthier ham, egg & chips
on its own drizzled with pesto and topped with rocket
with grilled or pan-fried sustainable fish (especially nice is trout, sardines, mackerel, pollock or plaice)
with the courgettes swapped out for (or added on top of) cubed squash, sweet potato or pumpkin, finely sliced leeks, cabbage or peppers, or adding fresh shredded greens (spinach/kale/chard) at the last minute until wilted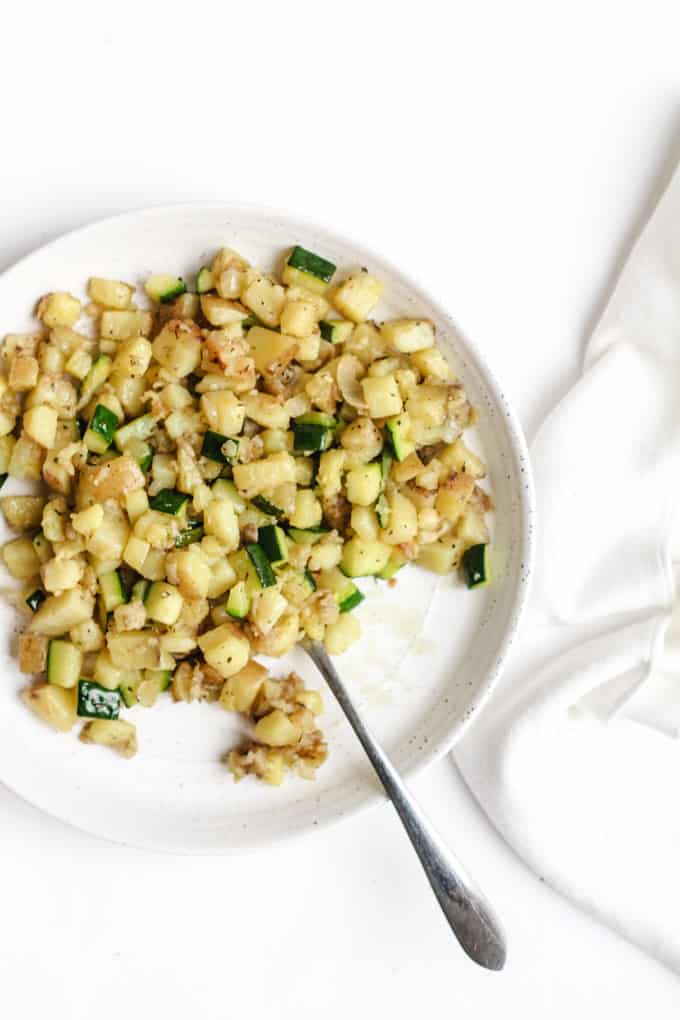 topped with cheese (cubed hard cheese or grilled halloumi/paneer or feta are all delicious) or a plant-based protein like cooked tempeh, or cooked beans, Puy lentils, or chickpeas (garbanzo beans)
any cooked meat (sausages and chorizo are particularly good with this, but some crumbled lamb or beef mince cooked into it makes a yummy meal)
swapping out the thyme for your favourite herbs, spices or even some garam masala or curry paste
or, if you are totally uncouth like me, a large bowl, a healthy dose of hot sauce, a spoonful of sour cream, some avocado and chopped cherry tomatoes are all you need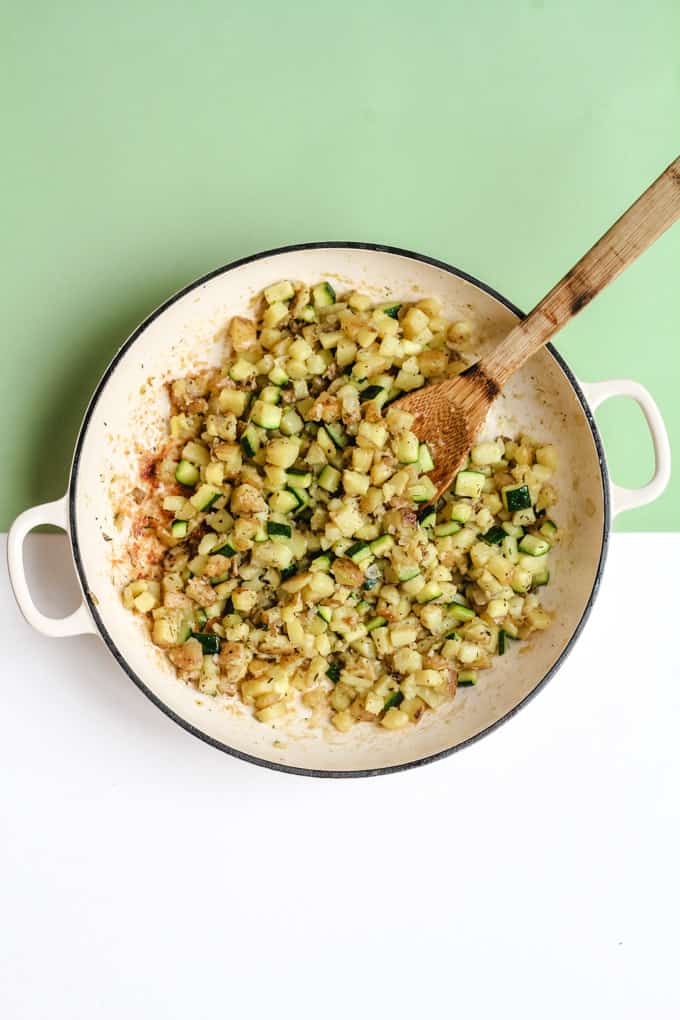 This may have been my husbands recipe originally, but I have, of course, given it my own veggie-loaded twist by adding in courgette (zucchini) and onion, as potatoes dont actually count towards your 5/7/10/however-many-you-aim-for-a-day. But even my courgette-dislikers eat this without the slightest complaint!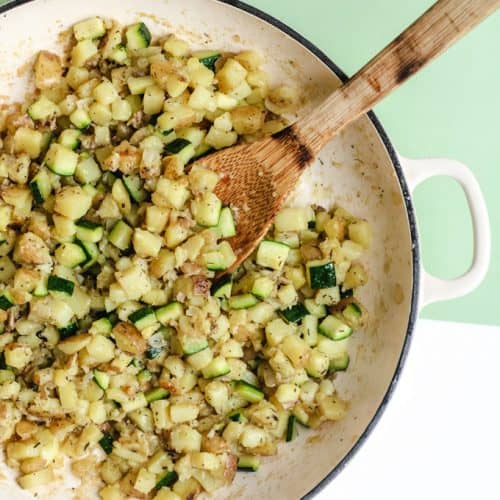 Print
The BEST Fried Potatoes
If your family love chips (fries) but you want to expand their potato-eating repertoire a little, why not try these amazing fried potatoes with extra veg thrown in for good measure!
Keyword
Autumn, Cheap, Comfort Food, Courgettes, Dairy Free, Easy, Fall, Flourless, Gluten Free, Kid-Friendly, Lunchbox, One-Pot, Potatoes, Quick, Real Food, Side, Vegan, Vegetarian, Zucchini
Ingredients
4

large potatoes (baking potatoes will do)

olive oil (plenty!)

2

white onions,

finely diced

a big pinch of sea salt

2

courgettes (zucchini),

finely diced

2

teaspoons

dried thyme (or a few sprigs fresh thyme)
Instructions
First, wash and dice the potatoes (no need to peel that's where all the goodness is!) into very small cubes (about 1 cm/1/2" in size). The smaller they are, the quicker they'll cook!

Pour a good glug of oil into a large lidded frying pan and heat, then add the finely sliced onions and cubes of potato. Sprinkle generously with sea salt and cook over medium heat for about 10 minutes, stirring regularly and adding olive oil whenever the potatoes start to stick and the oil runs out. Add the diced courgettes and dried thyme (if using fresh, add later for the last few minutes of cooking time), cover the pan with the lid and cook for another 10-20 minutes, until all the veg is soft and golden. Make sure you check the veg frequently, stirring to ensure it's not sticking and adding more oil if needed. Don't worry if the potatoes stick a little they nearly always do! but try to keep stirring every few minutes to keep the sticking to a minimum.

When everything is cooked through, taste and adjust seasoning with pepper and herbs to taste. See above for super-quick suggestions on how to serve it!
Need some more 30 minute recipes ideas? Click here.
The post The Best Fried Potatoes (with extra veg) appeared first on Add Some Veg.