Tis the season for cookies! It came to me suddenly the other day that I had never shared an actual gingerbread cookie recipe. Ive done chocolate ginger cookies and butterscotch ginger. But, never actually gingerbread GINGERBREAD cookies.
These Whole Wheat Gingerbread Men are just that. WHOLE WHEAT gingerbread men cookies. I decided not to lighten them up with any sugar substitutes or any of my usual shenanigans. I wanted to keep these cookies simple and classic. Besides the whole wheat part makes them a little less naughty and a little more nice.
Despite how some cut-out cookies can be, these Whole Wheat Gingerbread Men are actually pretty straight forward and easy to make. Mix the dry ingredients. Mix the wet ingredients. Mix the two together. Chill. Roll. Cut. Bake.
These cookies end up soft and yet sturdy. However they are NOT sturdy enough for gingerbread house making. So, dont even attempt that with this particular cookie base. No, no. These gingerbread men are meant for eating and enjoying.
I decorated my gingerbread men with some simple royal icing and a couple of candy sprinkles that were festive to the holidays. But, you can use whatever method you see fit. Im leaving that as dealers choice!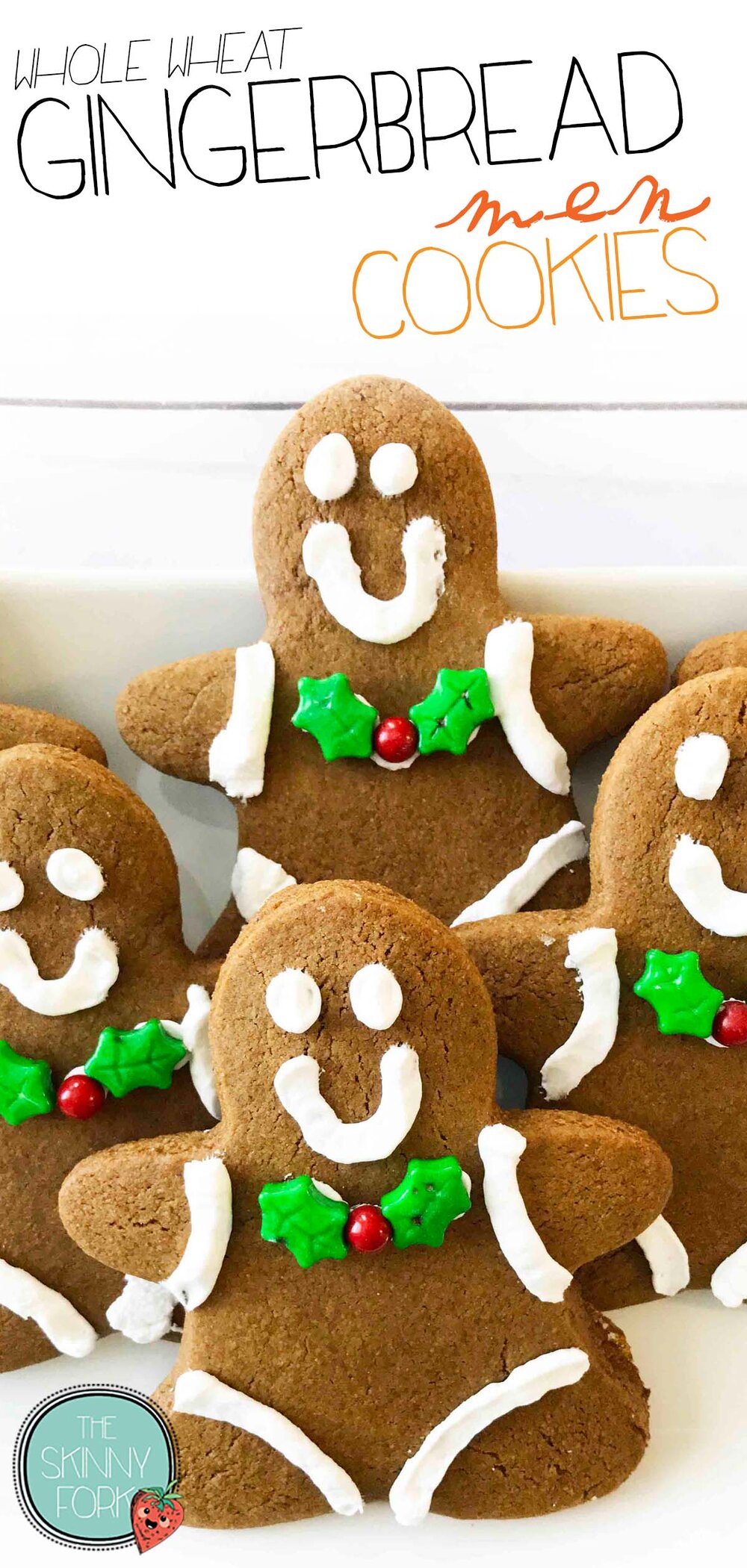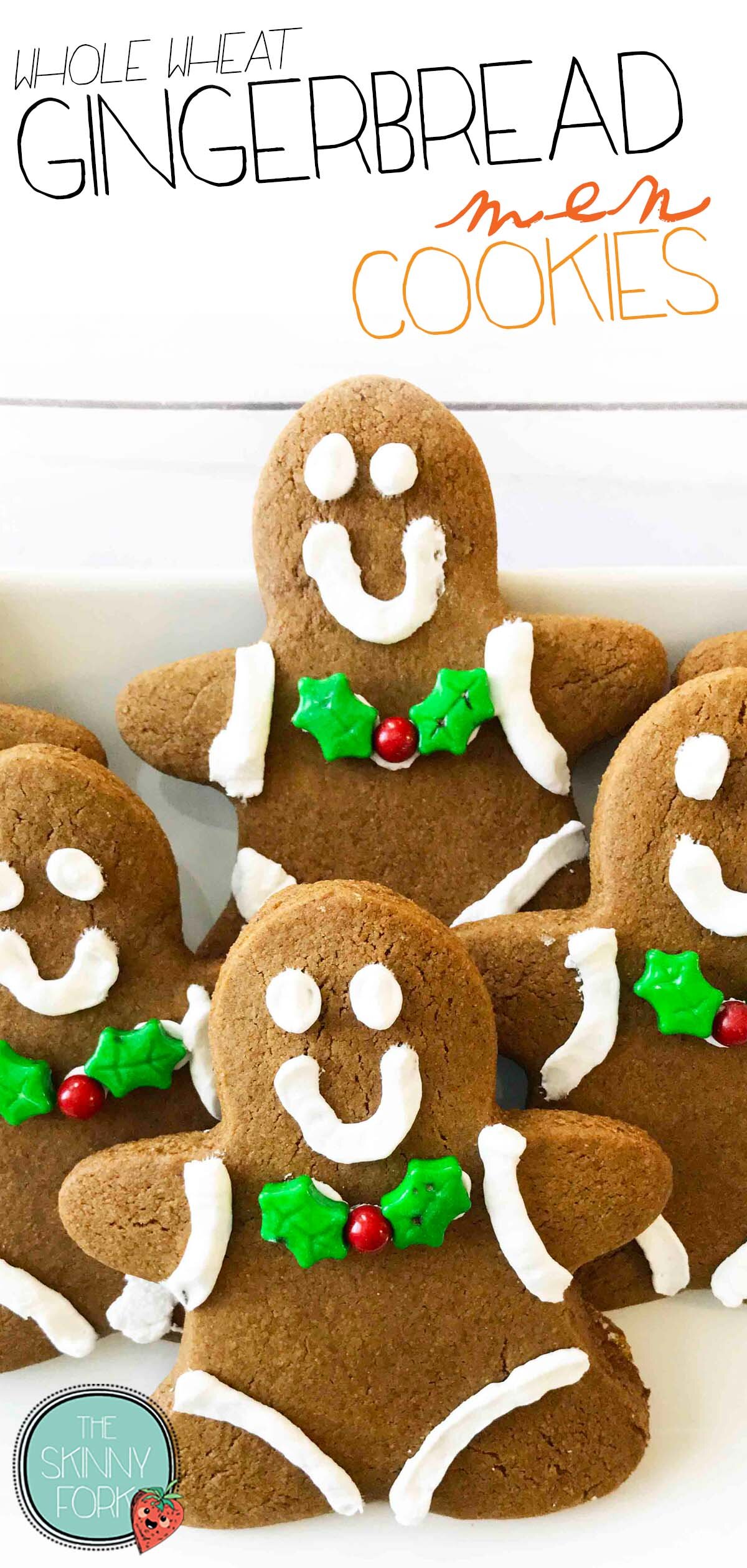 Whole Wheat Gingerbread Men
TheSkinnyFork.com
Simple, classic gingerbread men made with a whole wheat flour instead. Tons of ginger flavor with less guilt! Easy and fun to make.
Prep Time:
15 Minutes
Cook Time:
9 Minutes
The Skinny:
Servings: 24
Serving Size: 1 Cookie
Calories: 170
Fat: 5 g
Saturated Fat: 3 g
Carb: 28 g
Fiber: 1 g
Protein: 2 g
Sugar: 14 g
Sodium: 101 mg
Ingredients:
2/3 C. Unsalted Butter, Room Temperature
3/4 C. Packed Brown Sugar
2/3 C. Molasses
1 Egg, Room Temperature
1 Tsp. Vanilla Extract
3 1/2 C. Whole Wheat White Flour
1 Tbsp. Ground Ginger
1 Tbsp. Ground Cinnamon
1 Tsp. Baking Soda
1/2 Tsp. Allspice
1/2 Tsp. Ground Gloves
1/2 Tsp. Salt
Directions:
Place the 2/3 C. butter into the base of a stand mixer fitted with the paddle attachment. Beat for about two minutes.

Add in the 3/4 C. brown sugar and 2/3 C. molasses and continue to beat until well combined and creamy.

Beat in the egg and 1 Tsp. vanilla extract for a full two minutes.

In a separate bowl, whisk together the 3 1/2 C. spooned and leveled whole wheat white flour, 1 Tbsp. ginger, 1 Tbsp, cinnamon, 1 Tsp. baking soda, 1/2 Tsp. allspice, 1/2 Tsp. cloves, and 1/2 Tsp. salt.

On low speed, add the dry ingredients to the wet and mix until just combined.

Divide the dough evenly between two pieces of plastic wrap and form them into a disk, covered completely with the plastic wrap.

Place the disks into the fridge to chill overnight.

Preheat the oven to 350 degrees F. and line a couple of baking sheets with silicone baking mats or parchment paper; set aside.

Remove one of the disks from the fridge and roll out on a lightly floured surface to be about 1/4 thick.

Cut out your desired cookie shapes and transfer the cookies to the prepared baking sheets.

Note: I used a 4 gingerbread men cutter and got two dozen cookies out of it.

Place in the oven to bake for about 9 minutes.

Once done, remove from the oven and allow to cool on the baking sheet for about 5 minutes before transferring to a wire rack to continue cooling.

Decorate as desired and enjoy!
Step-by-Step Photos:
Nutritional Claims:Low Sodium Kidney Friendly Vegetarian Pescatarian Peanut Free Tree Nut Free Soy Free Fish Free Shellfish Free Pork Free Red Meat Free Crustacean Free Celery Free Mustard Free Sesame Free Lupine Free Mollusk Free Alcohol Free Kosher
Did you find this post useful? Save THIS PIN to your board and check it later at any time!