This post is about getting feedback on your novel from my perspective, a working novelist, and writing teacher.
***
I was in my last 10 days of getting my next manuscript — my next sci-fi mystery starring space station investigator Janey McCallister — ready to give to my critique partners and beta readers.
After that, I'd make fixes and then send it onto my proofreader.
After I responded to those edits, I'd be uploading my novel to the vendors in a few weeks. (Because the book was on preorder, I had to hit this deadline.) Yep, coming down to the wire.
So many thoughts and feelings — you may recognize these in your writing process:
Can I do it — meet my self-imposed deadline?
Will the book be any good?
Freaked out, Ack!
Okay, let's get to work.
I'm hungry…
What I'm really trying to say is… (thinking about what I need to edit next…)
Let's do this! Because then I will have four books in my series to share with the world! (Energized!)
As I went through this process, I was grateful that I wasn't producing this novel alone.
I had help and lots of it.
I want you to have the help and support you need to make your novel the best it can be for your readers, so today I'll share about getting feedback on your writing — how to find beta readers and how to work with them.
Getting Feedback on Your Fiction from Strangers
I was chatting with another novelist recently and she told me that her biggest challenge was getting feedback from readers on her work.
I told her that I rely on lots of feedback at the different stages. And she asked me how I found beta readers.
So here are the resources I created to find and work with beta readers.
A beta reader is someone who reads your work that you feel is almost ready for the world. This person usually is not a writer or critique partner, and loves (ideally) the kind of story you are writing. Think, "super fan" or they want to be one.
The Evolution of My Strategy For Finding Beta Readers
At the beginning of publishing my fiction 12 years ago, my strategy was to ask writing friends and family and kind strangers on Twitter for feedback on the book right before publishing. (I've been indie published since the beginning, so am in control of the entire process.)
Then I focused on building my list of people interested in my work (author mailing list — a must have).
I then asked those people to join my beta reader team (and Street Team and overall supporter team.)
These are people (mostly avid readers, a few writers, too) who would get my manuscript at earlier stages in exchange for a polished version once I publish.
Developing a group of insiders to support your creative process is itself a process.
Just as you nurture your own creative side you also can nurture your inner circle of supporters, fans, and beta readers.
On Getting Feedback: Tips When Working with Beta Readers
Be gracious and grateful.
I do my best to be gracious, grateful, and leave lots of room for people to say, "No, this isn't right for me." Good information, right?
Be generous.
I give away a lot of books to people who want to be reviewers or beta readers. In the past, I've mailed out lots of bookmarks.
We are all in this together, and we all live on this one planet, and I want to make the world a better place through my fiction. To those who help me, I am very grateful.
Make it a Win-Win.
If you are at the beginning stages of building a support team to give you feedback, consider how to make it a win-win situation, so that it's good for you and it's good for them.
Ask people what works for them.
It's an exchange. It's a relationship. And a good relationship has healthy give and take.
What does a healthy win-win with beta readers look like, feel like, for you?
Comment below and let us know. Thanks!
***
If you're looking for 1-1 coaching and developmental editing support, I have a few open client slots starting Feb. 1st.
Reach out for an no-obligation no-cost exploratory call here:
https://writersfunzone.com/blog/talk-to-a-writing-coach/.
***
ABOUT BETH BARANY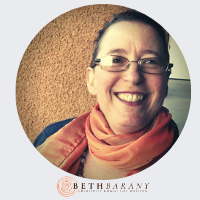 Beth Barany is an award-winning novelist, master neurolinguistic programming practitioner, and certified creativity coach for writers.
She specializes in helping writers experience clarity, so they can write, revise, and proudly publish their novels to the delight of their readers.
Her courses are packed with useful hands-on information that you can implement right away.
Her 12-month program for dedicated novelists who have finished at least one first draft is now entering its 8th year and helps writers create excellent publishable books on their own terms. Curious? Check it out here.
Her latest book for authors, co-written with her husband, also a novelist and teacher, is Plan Your Novel Like A Pro: And Have Fun Doing It! and comes with a downloadable workbook and other goodies.
When she's not helping writers, Beth writes magical tales of romance, mystery, and adventure that empower women and girls to be the heroes of their own lives.
Her latest novel is Red Running Deep, Book 4 in the Janey McCallister Mystery series. Out March 22, 2022.
***
Want more articles like this? Subscribe to Writer's Fun Zone here and get goodies, a weekly Creativity Sparks newsletter, and invitations to our regular writing sprints.
The post Getting Feedback on Your Novel by Beth Barany appeared first on Writer's Fun Zone.