Who has two thumbs and loves the cool wrap from Chick-fil-a? This girl.
Its true, the cool wrap is one of my favorite things to get from the fast food chain. Mostly because its really such a healthy option. Grilled chicken, plenty of greens and what is that wrap? Well, with a quick search over their menu and the ingredients for the wrap, I found that a lavash pita bread is used.
Lavash pita bread is a very thin and very soft pita bread that is perfectly foldable, rollable, and doesnt tear very easily. It holds up extraordinarily well. Its officially my tortilla replacement, I think.
The one major change that I made was that I used cooked and shredded chicken instead of grilled chicken. Mostly because thats what I had on had and I felt the shredded chicken would give me a bit more bang for my buck when it comes to portion size.
Everything else about the wrap is simple and true to what you can buy for a whopping $7 at the restaurant. So not only are you getting a guilt-free meal out of it, youre also saving quite a big chunk of change with making this wrap for yourself come lunch time.
The best part about these wraps? Theyre a great meal prep option to make ahead and have ready on the busy weekdays for a gran-and-go lunch.
I served my pita with a side of buffalo sauce and some mixed grapes to round out my lunch into a perfectly filling meal. Feel free to change up the sauce served with the wrap. A ranch or vinaigrette would be great options!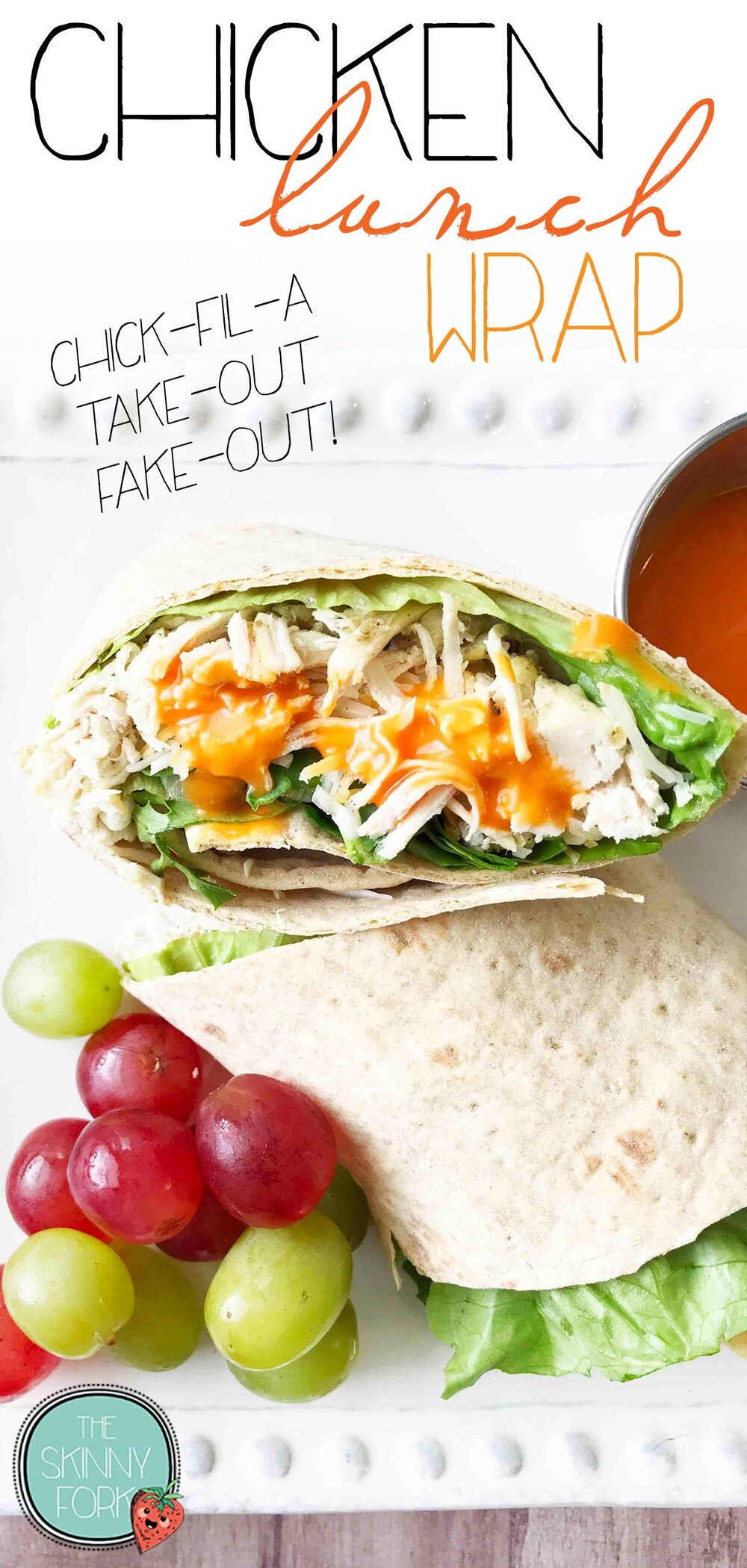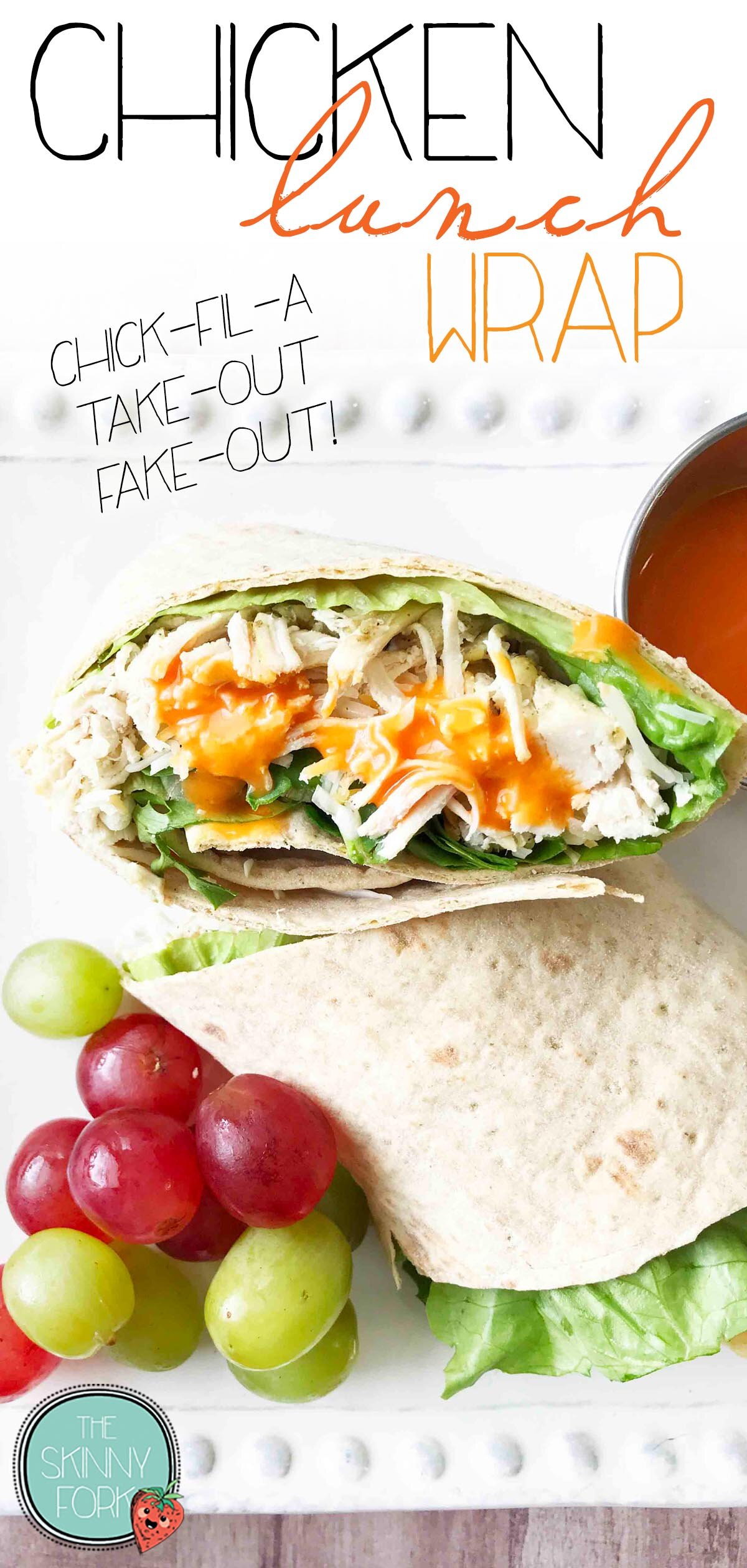 Chicken Lunch Wrap
TheSkinnyFork.com
A lunch wrap that's just like the one from Chick-fil-a. Made with lavash pita bread, chicken, lots of greens, and even some cheese. Make it ahead of time for a grab-and-go lunch!
Prep Time:
10 Minutes
Cook Time:
0 Hours
The Skinny:
Servings: 4
Serving Size: 1/2 Wrap
Calories: 310
Fat: 13 g
Saturated Fat: 4 g
Carb: 18 g
Fiber: 1 g
Protein: 28 g
Sugar: 0 g
Sodium: 282 mg
Ingredients:
2 'Lavash' Flax Oat Bran & Whole Wheat Reduced Carb Flat Bread Wraps
2 C. Cooked & Shredded Chicken Breast
4 Outter Green Leaf Lettuce Leaves
1 C. Mixed Greens
1/2 C. Shredded Cabbage
1/4 C. Reduced Fat Shredded Cheddar Cheese
Salt & Pepper to Taste
Directions:
Lay out a flat bread wrap and top it with 2 green leaf lettuce leaves.

Sprinkle 1 C. shredded chicken and 1/2 of the mixed greens.

Add 1/4 C. of the shredded cabbage and 2 Tbsp. of the cheese.

Roll it all up and tuck it into itself like a burrito!

Rinse and repeat with the remaining flat bread wrap.

Cut each wrap in half and serve right away or store in an air-tight container for 3-5 days to enjoy!
Step-by-Step Photos:
Nutritional Claims:Sugar ConsciousEgg FreePeanut FreeTree Nut FreeSoy FreeFish FreeShellfish FreePork Free Red Meat FreeCrustacean FreeCelery Free Mustard FreeSesame FreeLupine FreeMollusk FreeAlcohol FreeNo Sugar AddedSulphite Free
Did you find this post useful? Share on Pinterest by pinning this article!