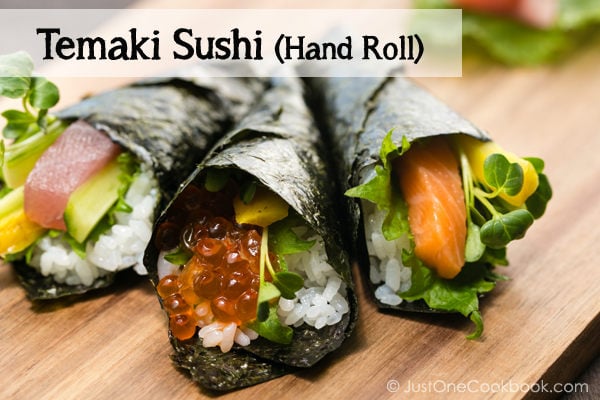 Make sushi at home with simple hand rolled sushi called Temaki Sushi. Everyone in the
family (or at the party) will have fun rolling the nori sheets around sushi rice and their favorite fillings!
Temaki Sushi (Hand Roll)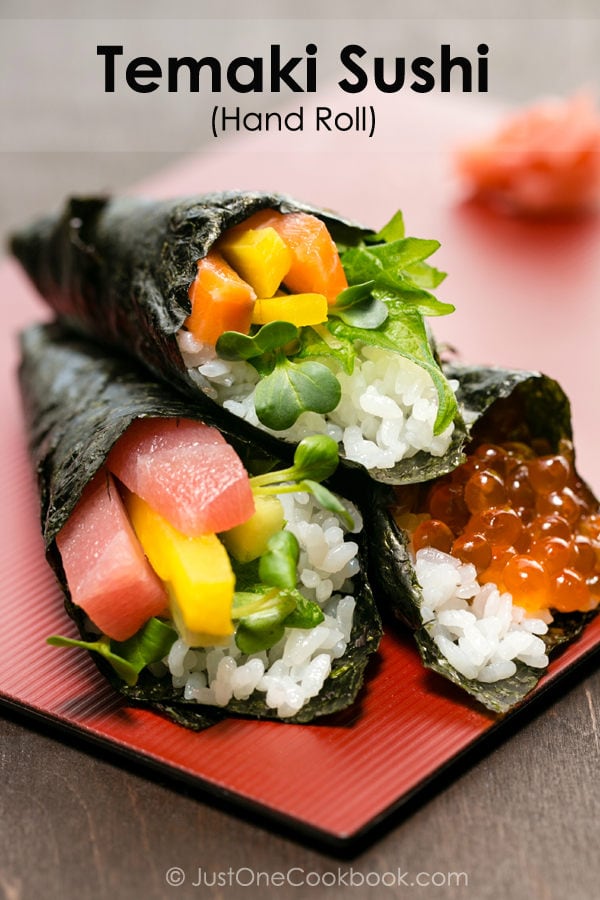 Sashimi grade fish of your choice

(salmon, tuna, salmon roe, spicy tuna etc)

Shiso leaves (Ooba)

(perilla)

avocado

carrot
Gather all the ingredients.

If your raw fish comes as a block, slice the raw fish into long sticks. Or you can ask a fish monger at a Japanese grocery store to cut the raw fish for Temaki Sushi. They will cut fish into long sticks, instead of sashimi-style cut.

Before you start, make sure your hands are dry in order to keep nori dry and crispy. Place the seaweed on the palm of your hand (shiny side down) and put a thin layer of rice on left third of nori.

Place fillings (shiso leaf, cucumber, raw fish and daikon radish sprouts) vertically across middle of middle of the rice.

Fold the bottom left corner of nori over and begin folding into cone shape.

Keep rolling until cone is formed. Put a piece of rice at the bottom right corner to use as glue and close tightly. Continue with the other half of the nori.

Serve with pickled ginger, wasabi, and soy sauce as condiments.
https://www.justonecookbook.com/temaki-sushi-hand-roll/
Did you find this article inspiring? Let us know by pinning us!