Thanksgiving is in just a few days and when the Holidays are rolling in, I like to be sure that I have breakfast taken care of. Strata is a great way to use up what you have on hand. Theyre pretty flexible and can be made ahead of time to have a breakfast (or brunch) ready to go for a whole crowd of people. Mhm, thats right. This breakfast makes a whopping 12 servings!
This Sausage, Apple & Baby Kale Whole Wheat Strata is a real winner, and if you havent had a strata before, you definitely should! Its sort of a cross between a savory bread pudding and a quiche.
For this strata, I started off with some whole wheat bread. Why? Its what I had on hand that needed to be used up before going bad. I also used a lean turkey breakfast sausage and stretched it out further with some baby kale and a green apple. Like I said, the idea here is to feed the whole family!
The use of a reduced fat mozzarella saves on calories while still getting plenty of cheese in there. Besides, who doesnt like apples and cheese? The two flavors work well together, the fresh tartness of apple and the richness of cheese and sausage.
Like I said, this is a make ahead recipe and you do have to let it sit overnight in the fridge before you bake it. That allows the bread ample time to soak up all the egg, milk, and cheese goodness to be baked to perfection the next morning. Hands free.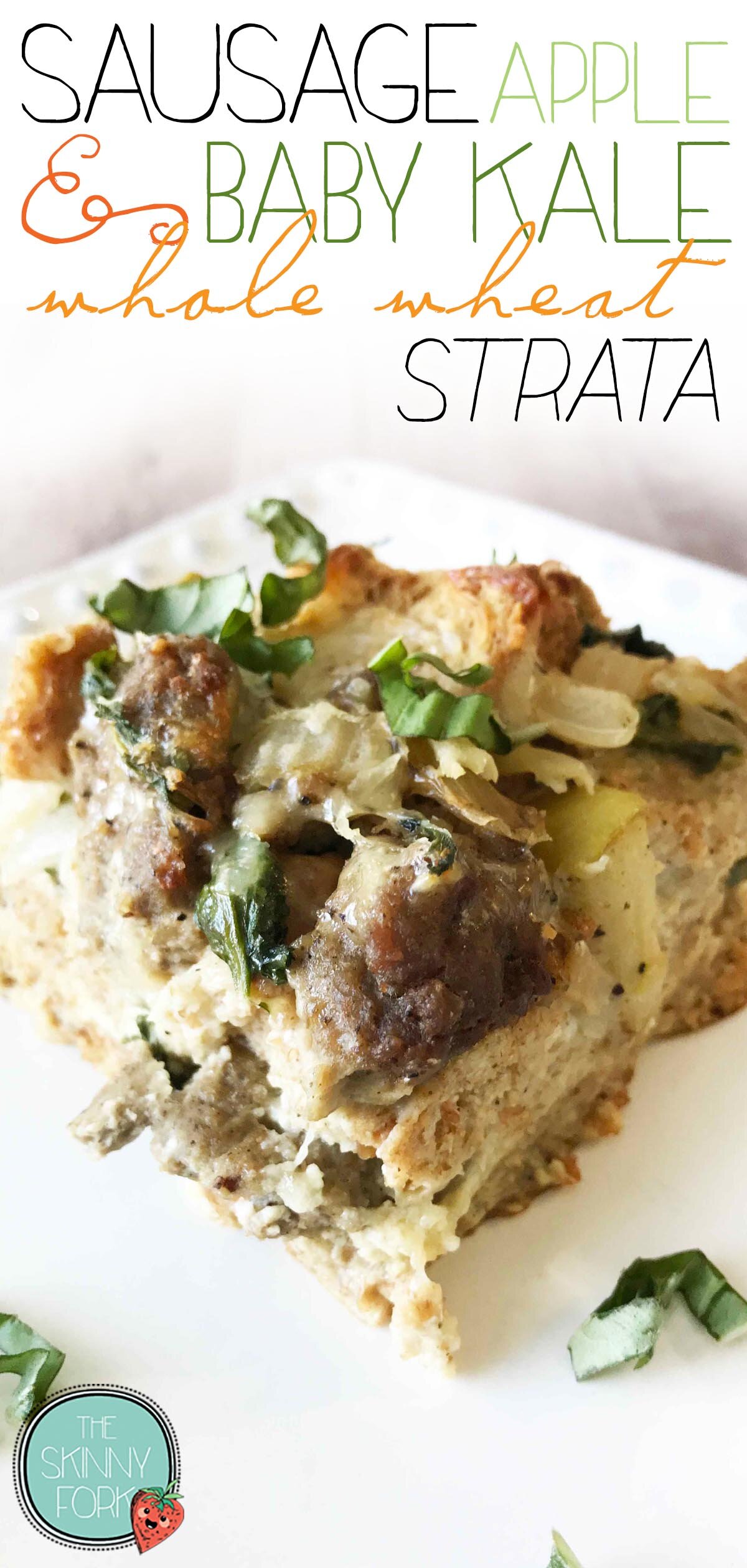 Sausage, Apple & Baby Kale Whole Wheat Strata
TheSkinnyFork.com
An overnight breakfast or brunch casserole that's easy to make and so delicious. Loaded with whole wheat bread, eggs, cheese, and kale too!
Prep Time:
15 Minutes
Cook Time:
45 Minutes
The Skinny:
Servings: 12
Serving Size: 1 Slice
Calories: 277
Fat: 14 g
Saturated Fat: 6 g
Carb: 21 g
Fiber: 3 g
Protein: 17 g
Sugar: 4 g
Sodium: 572 mg
Ingredients:
1/2 Lb. Turkey Breakfast Sausage
1 Medium White Onion, Chopped
4 C. Baby Kale, Chopped
1 Granny Smith Apple, Chopped
1 Tsp. Sea Salt, Divided
1/2 Tsp. Black Pepper, Divided
8 C. Whole Wheat Bread, Cubed
8 Oz. Reduced Fat Shredded Mozzarella Cheese
2 3/4 C. Unsweetened Almond Milk
6 Whole Large Eggs
6 Egg Whites
2 Tbsp. Dijon Mustard
Directions:
Heat a large skillet over medium heat and brown the 1/2 Lb. sausage along with the onion.

Once the sausage is browned and the onion is tender, add in the 4 C. chopped kale and 1 chopped apple. Continue to cook for a couple of minutes until the kale is wilted.

Season with 1/2 Tsp. of the salt, and 1/4 Tsp. of the pepper. Remove from heat and set aside.

Lightly coat the inside of a 13x9 baking dish with non-stick cooking spray and place about 1/3 of the cubed bread into the base of it.

Top the bread with 1/3 of the kale an onion mixture, followed by 1/3 of the chees.

Repeat this process for another 2 layers and set aside.

In a medium bowl, whisk together the 2 3/4 C. milk, 6 eggs, 6 egg whites, 2 Tbsp. dijon, and the remaining 1/2 Tsp. salt and 1/4 Tsp. pepper.

Pour the egg mixture over the dish evenly, cover and place in the fridge overnight - or at least 8 hours.

Once done, preheat the oven to 350 degrees F. and place the dish into the oven to bake for 45-55 minutes or until starting to brown on the top.

Remove from the oven and allow to cool slightly before cutting evenly into 12 pieces.

Serve right away and enjoy!
Step-by-Step Photos:
Nutritional Claims:Peanut Free Soy Free Fish Free Shellfish Free Crustacean Free Celery Free Sesame Free Lupine Free Mollusk Free Alcohol Free Sulphite Free
Did you find this article inspiring? Share on Pinterest by pinning this photo!