Usually, banana bread is banana bread is banana bread. But, being as I intend to make food a whole hell of a lot more fun and exciting this year, I decided to do what any mother does best. Add rainbows to the mix! This colorful twist on banana bread has lovingly been dubbed as Unicorn Banana Bread and its pretty easy to see why.
If you love banana bread, youll also love this Unicorn Banana Bread. Other than a few healthy swaps and the sprinkles added into the mix, this is a pretty standard banana bread. Lots of bananas, lots of whole wheat, and lots of color.
This bread is pretty easy to make with the usual mixture of wet ingredients separate from dry ingredients and then merge the two together with a quick fold in of the sprinkles at the end. The toughest part about this bread is being careful not to over mix the batter. Especially after adding the sprinkles in.
I used a whole huge mix of a bunch of sprinkles that I had on had. Some were naturally colored, some were not. Some were shimmery, some were not. Some were jimmies and others were confetti shaped. In the end I got a pretty fun loaf of banana bread.
One of my favorite things about this breakfast bread is that once you make a loaf of it, you pretty much have breakfast ready for the week! I like to serve mine with some fresh fruit on the side and call it done.
Store it in an airtight container in the fridge for 3-5 days and reheat quick in the microwave in the morning or keep it covered and slowly bring it back up to room temperature.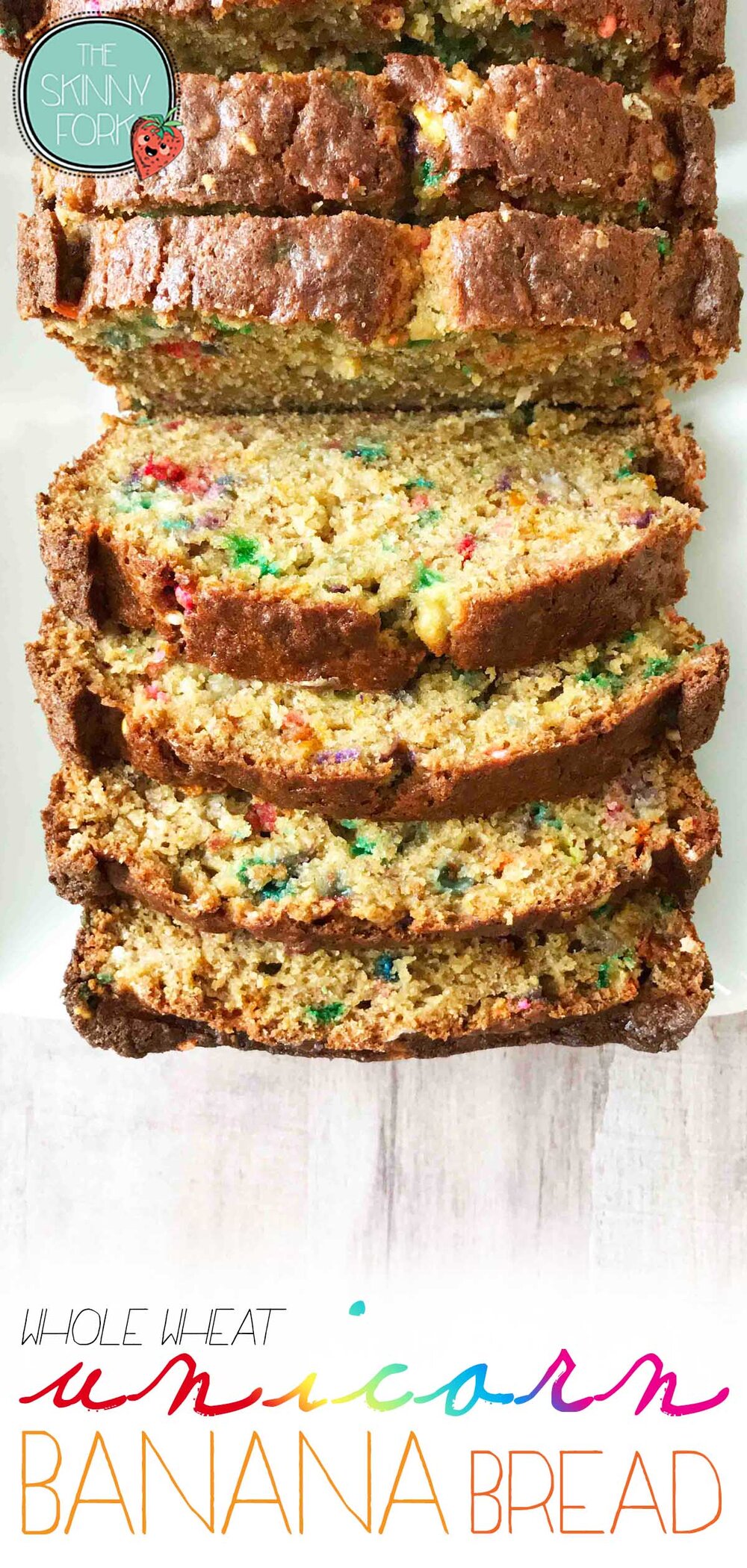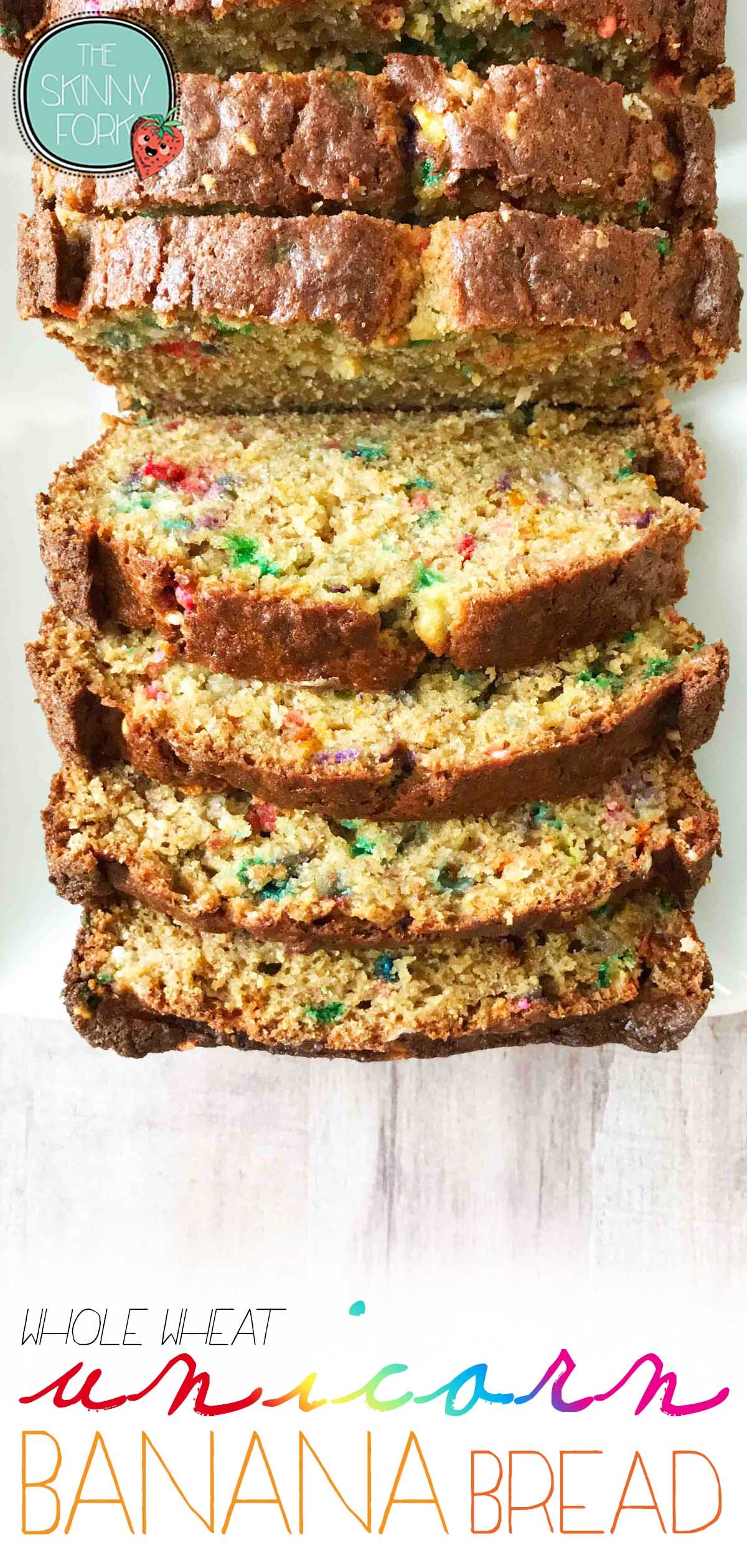 Unicorn Banana Bread
TheSkinnyFork.com
A healthier homemade (from scratch) rainbow infused banana bread that is perfect for kids and adults alike! Easy to make and fun to eat!
Prep Time:
10 Minutes
Cook Time:
45 Minutes
The Skinny:
Servings:
Serving Size: 1 Slice
Calories: 249
Fat: 9 g
Saturated Fat: 5 g
Carb: 40 g
Fiber: 1 g
Protein: 4 g
Sugar: 21 g
Sodium: 199 mg
Ingredients:
1/2 C. Unsalted Butter
1/2 C. Natural Sugar Substitute
1/2 C. Sugar
2 Large Eggs, Beaten
3 Ripe Bananas, Mashed
2 C. Whole Wheat White Flour
1 Tsp. Baking Soda
1/2 Tsp. Salt
1/2 C. Rainbow Sprinkles or Jimmies
Directions:
Preheat the oven to 375 degrees F. and lightly coat the inside of a 9x5 loaf pan with non-stick baking spray; set aside.

In a large bowl, or the base of a stand mixer, beat together the 1/2 C. butter, 1/2 C. sweetener, and 1/2 C. sugar until smooch and creamy.

Add in the 2 eggs and continue to beat until well combined.

Beat in the 3 mashed bananas and set aside.In a medium bowl, sift the 2 C. flour, 1 Tsp. baking soda, and 1/2 Tsp. salt.

Stir the dry ingredients into the wet until JUST combined. Do NOT over mix.

Fold in the 1/2 C. sprinkles. Again, do NOT over mix.

Pour the batter out into the prepared loaf pan and place in the oven for 15 minutes.

After 15 minutes, reduce the heat to 350 and continue to bake for another 30 minutes or until an inserted toothpick comes out clean.

Once done, remove from the oven and allow to cool for 10-15 minutes in the pan before transferring to a wire rack to continue cooling before slicing into 12 equal pieces to enjoy!
Step-by-Step Photos:
Nutritional Claims:Low PotassiumKidney FriendlyVegetarian PescatarianPeanut FreeTree Nut FreeSoy Free Fish FreeShellfish FreePork FreeRed Meat Free Crustacean FreeCelery FreeMustard FreeSesame FreeLupine FreeMollusk FreeAlcohol Free Kosher
Did you find this post useful? Let us know by pinning us!