Baby its cold outside
And I need some biscuits in my life! Now, Ive made some simple biscuits in the past, like my 3 ingredient biscuits or even these low carb ones that I paired with gravy. Today though, I wanted to stay simple and have some biscuits on hand for breakfast sandwiches this week. I didnt want just any old biscuit though, I wanted them to be whole wheat this time around!
I took some of the basics from my 3 ingredient biscuits and made the needed adjustments to turn them into whole wheat biscuits instead. Of course the thing that made the 3 ingredient version was the self-rising flour.
Being as its almost impossible to find a self-rising whole wheat flour, I made my own homemade self-rising whole wheat flour by mixing whole wheat white flour with some baking powder and salt. Yep! Thats all it takes to make your own self-rising flour!
These biscuits are super simple. Mix, mix, mix, cut out and bake. Just be careful not to over mix the dough or they wont rise up as much as you might want. And being as these are made with whole wheat flour, they arent as light and fluffy as other biscuits out there. These are a more bready and dense biscuit, great for soaking up soups or stews.
Like I said, I turned my biscuits into breakfast sandwiches for this week. But, you can do anything with them that your little heart desires. Use them in any way that you would any other biscuit. Simply with some jam or jelly, along side some gravy, or even with a soup or stew!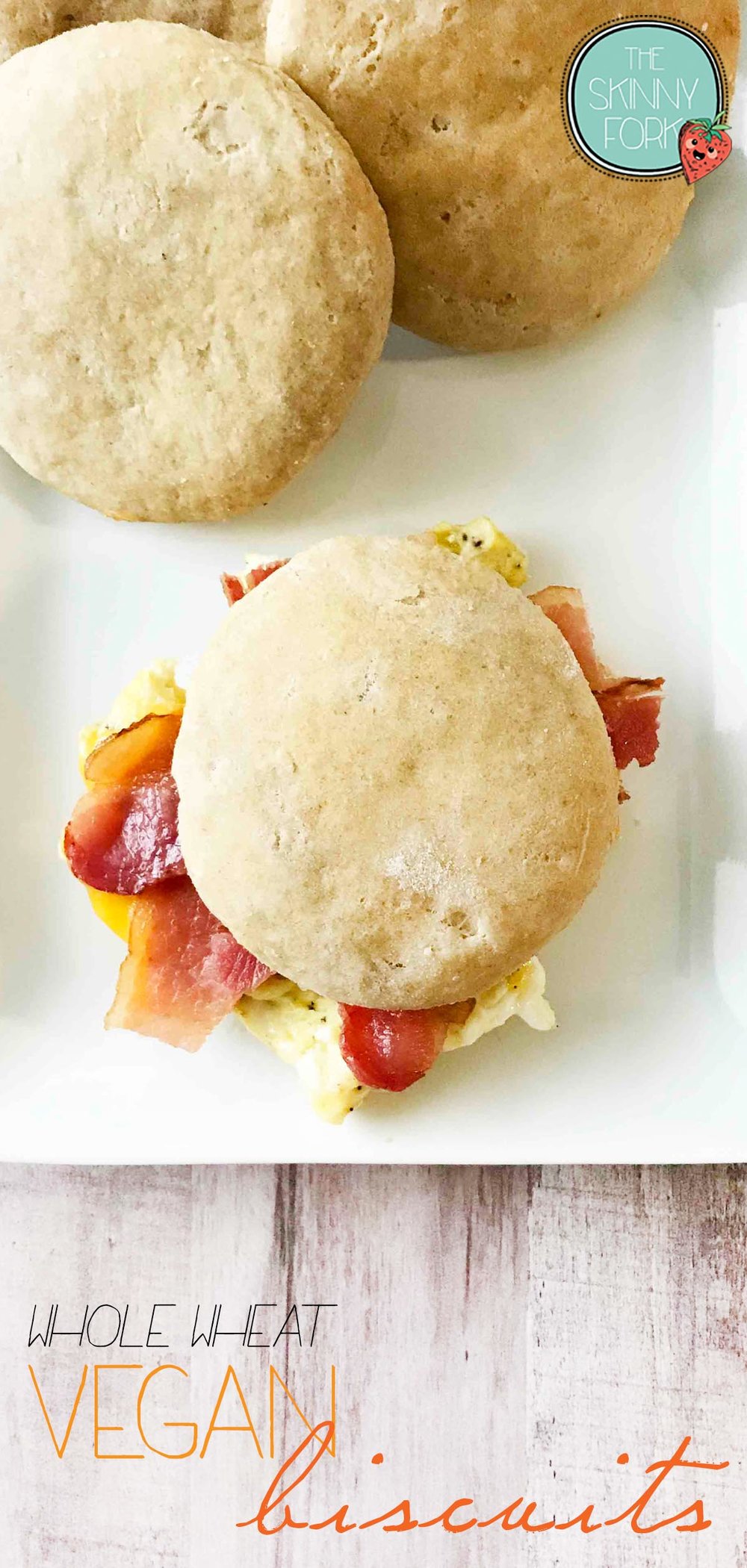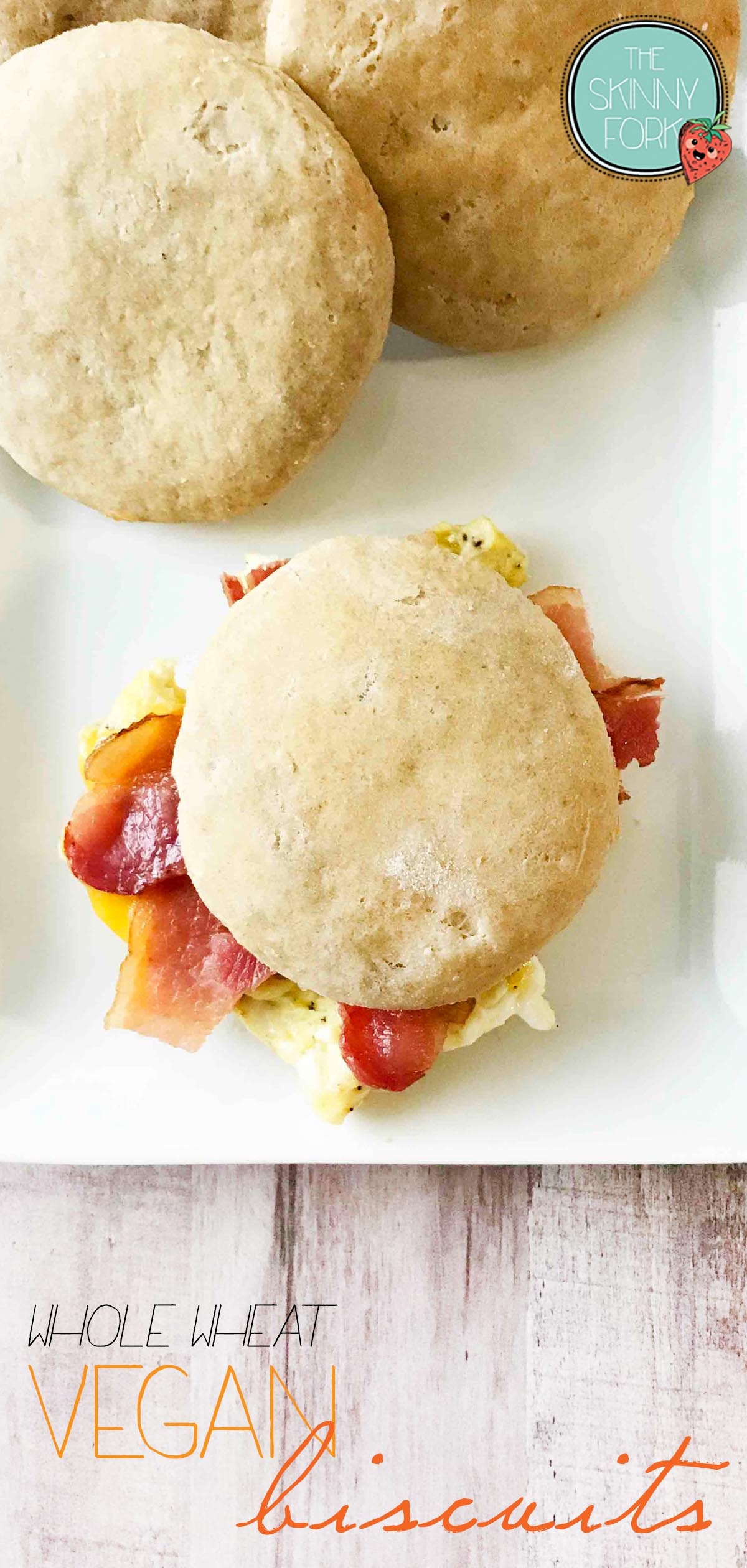 Whole Wheat Vegan Biscuits
TheSkinnyFork.com
Homemade vegan whole wheat biscuits that are quick and SUPER easy to make. Mix them up, cut them out, and bake - that's it!
Prep Time:
10 Minutes
Cook Time:
10 Minutes
The Skinny:
Servings: 8
Serving Size: 1 Biscuit
Calories: 176
Fat: 7 g
Saturated Fat: 6 g
Carb: 24 g
Fiber: 1 g
Protein: 3 g
Sugar: 0 g
Sodium: 143 mg
Ingredients:
2 C. Whole Wheat White Flour
1 1/2 Tsp. Baking Powder
1/2 Tsp. Sea Salt
1/4 C. Coconut Oil
3/4 C. Unsweetened Almond Milk
Directions:
Preheat the oven to 425 degrees F. and line a baking sheet with parchment paper or a silicone baking mat for easy clean up.

Whisk together the 2 C. flour, 1 1/2 Tsp. Baking powder, and 1/2 Tsp. baking soda.

Cut in the 1/4 C. coconut oil until a fine crumb mixture is formed.

Add in the 3/4 C. almond milk and stir until a soft dough forms that no longer sticks to the side of the bowl.

Scoop the dough out onto a lightly floured surface and roll out until about 1/2 thick.

Use a round cutter to cut out the biscuits. (Mine was about 3.)

Transfer the cut out biscuits to the prepared baking sheet.

Place in the oven to bake for 10 minutes or until the bottoms are starting to brown.

Once done, remove from the oven and enjoy!
Step-by-Step Photos:
Nutritional Claims:Sugar Conscious Low Potassium Kidney Friendly Vegan Vegetarian Pescatarian Dairy Free Egg Free Milk Free Peanut Free Soy Free Fish Free Shellfish Free Pork Free Red Meat Free Crustacean Free Celery Free Mustard Free Sesame Free Lupine Free Mollusk Free Alcohol Free No Sugar Added Sulphite Free Kosher